The creation of true and fair products is at the core our philosophy.
Our products are made of selected kinds of meat, natural spices, the best ingredients from Italy and other European countries.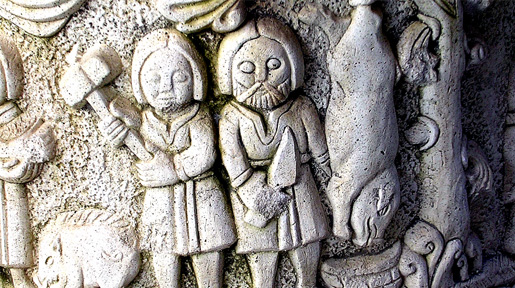 Since ancient times, sausages have been regarded as an elite dish, as its production presents a long and complex process in which not only the highest quality meat, but also expensive spices imported from India and the East are used. In medieval Europe, sausages production went in different ways depending on the climate of the area. In the northern regions people made smoked sausages, and in the southern regions sausages were dried in the sun, that's why they were called summer sausages.
"MUSKAT" workshop is enthusiastically working on the reproduction of the traditional recipes of ancient Europe, using the latest technology and only the finest ingredients. We produce meat products using innovative German equipment according to old recipes from all over the world. Products ripen in a climate chamber with proper temperatures close to the natural conditions of the brick basement cellars.
Traditional Italian sausages, French delicacies, Austrian smoked sausages, German sausages – all these products are prepared in "MUSKAT" workshop. The main feature of our production is complying with all the traditional stages of production and strict adherence to recipes …
Using only the best meat of domestic origin, we guarantee benefits and safety of our craft sausages and meat products. To create the exquisite taste of traditional products, we bring unique spices and ingredients from all over the world: calvados, the best Italian wine and cheese (parmesan and others), flavored rum, natural honey, pistachios, fresh butter.